Uniform
Students must wear the school/sports uniform at all times, unless otherwise stipulated by the Principal (ex: Free Dress Days).
If you are to wear a jacket in school, it must be a Q.F.I. School jacket.
All students are to wear black enclosed shoes with black socks.
Breaks
Grades 0-2 and 3-8 have different breaktimes.
For Grades 0-2 the breaks are at 8.15-8.45, 10.35-11.00 and 11.45-12.00.
For Grades 3-8 the breaks are at 9.00-9.30, a 30-minute break at lunch time and 12.45-13.00.
During breaks the students are encouraged to actively play with other students.
Pick-up
The gate will open at 12:55 pm for the parents.
Drop-off
The gate opens at 6:30 am students and parents are requested to use the Student drop-off/pick-up zone to enter the school.
At 7:28 am the school bell rings. Children line up and wait for a teacher/assistant to lead them to their classrooms. All classes begin promptly at 7:30 am.
No bullying -program
The school has a No Bullying -program. The aim is to create a healthy and happy atmosphere that encourages the students to be friends with one another. If bullying occurs, each case needs to be handled differently according to the severity.
Lunch
Grades 0-2 lunch at 10:15 – 11:00 am
Grades 3-8 lunch at 11:00 – 12:00 noon
Students can have a healthy pack lunch with them or a warm meal pre-ordered from the Canteen. Instructions for placing the order are below.
Following the feedback that we received from you, the school has developed the Canteen procedures together with the Canteen Operator. The Staff working in the canteen is new and they have been trained to follow the new procedures. We are kindly asking you to take the time to read and to follow the steps below to ensure that your child will get the lunch you have pre-ordered.
Check the menu at the Canteen.
Select the meal type (meat or vegetarian).
Fill in and sign the order form at least 24 hours prior to the day when you want your child to receive the lunch.
Make the payment. For now, the payment should be made by topping up the card that is kept in the Canteen.
NOTE! Children can top up the card but they cannot sign the order form.
Different in many ways
The same in many ways
For that we need to develop in
Cooperation: being willing to work with others
Courage: having the courage to take risks and to make good decisions even when it's difficult
Empathy: thinking what it would mean if it happened to us
Honesty
Imagination: being creative in trying to solve problems
Respect: respecting ourselves, people around us and the surroundings
Responsibility
To be able to work together we all must remember that
all students have the right to learn
all teachers have the right to teach
all of us have the right to be safe
An environment to play, discover and learn.
Our school's indoor, outdoor and digital spaces form an integrated learning environment supporting child-centered active and playful learning – as well as inquiry-based and problem solving approaches.
We are introducing an inspiring, motivational, and safe environment where your child will be able to reach his / her potential. Our campus offers an inspiring and safe learning environment for your children.
Welcome to the Q.F.I. School community. Our school wants to share the learning journey together with your family as your child's education is extremely important. We hope that this handbook will help you organize your daily lives and find common understanding in educating your children.
HANDBOOK
In this handbook there are some practices and procedures we in our school. However, the most important thing is that your children feel you are interested in their education and share the joy of learning. Wishing a good academic year 2017- 2018.
Q.F.I. School Lynxes is a Sport Club that provides top quality coaching for the talented athletes of our school in different sports throughout the school year. According to research it's not advisable for young athletes to specialize in one sport at an early stage but to practice different sports to fully develop motor skills. Therefore in the Lynxes different sports are practiced in seasons so that when one sport is on the others are on hold.
In the Lynxes program children improve flexibility, cardiovascular capability and body composition in addition to strategic and social skills. Try-outs are held for each sport separately in order to select the athletes for the competitive team. Practices take place either after school or on Saturdays and are free of charge for the ones who make the team.
The players are expected to be committed and to come to every practice and game. The Lynxes play in QPPSSA League with most other international schools in Qatar. Our athletes get to wear special Q.F.I. Lynxes Uniforms for games and act as our ambassadors when we travel to tournaments or play home games against teams from other international schools. We are pleased to welcome all of you to join the Q.F.I. Lynxes Fan Club. We'll soon start to sell Lynxes Fan items in the uniform shop to enhance the team spirit.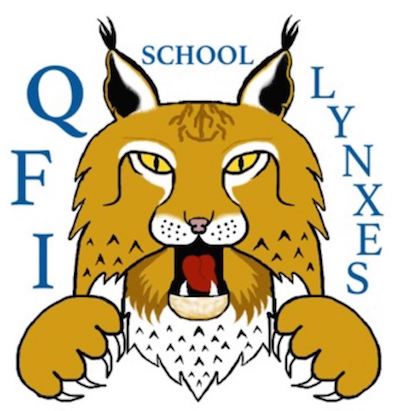 Extra curricular activities (ECA)
Grades 0-2:
Snack 13:00-13:15 (in School Canteen)
ECA starts 13:15 –end times vary according to the activity
Grades 3-7:
Snack 13:45-14:00 (in School Canteen)
ECA starts 14:00– end times vary according to the activity
The objectives of extra-curricular activities are:
to support the educational work of the home and school
to increase involvement on the part of children and young people
to provide an opportunity for developing social skills and nurturing a sense ofcommunity
to provide an opportunity to feel one is capable and successful
to develop creative activity and thinking
to encourage children and young people to produce their own culture
to provide an opportunity to become more familiar with the student
to support the pursuit of interests and promote constructive pastimes
The school offers a wide variety of Extra Curricular Activities (ECA) mainly organized by outsourced companies.
Students staying after school for ECA have a 15 min snack break supervised by school staff. The representative of ECA provider picks up the students from the school canteen.
The companies are also responsible for supervising the students after activities until they are picked up. More information about ECAs including contact information can be found on the list.
NOTE: All inquiries about outsourced activities must be addressed directly to the provider.